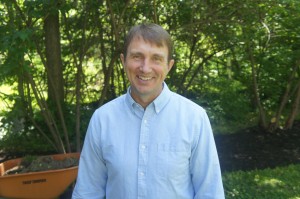 One of the great gifts of being Poet Laureate is that in my travels I get to meet the poets of Indiana. Life's pace, of course, can keep us away from meeting as many of our fellow poets as we need to (which is one reason I am providing this place of connection for Indiana writers with The Wabash Watershed). During National Poetry Month, however, I had the opportunity to read with several poets from Indiana, Ohio, and Kentucky, at Poetpalooza, a marvelous tri-state poetry festival held in Madison, Indiana, at Northern Lights Bookstore. There I met Joseph Heithaus, a poet with whom I'd been unfamiliar, and hear his blistering poems. It's not an exaggeration to say his work moved me deeply, as did his powerful presentation of his verse. His poems were teeming with insight, emotion, perspective, and energy. I instantly knew I had to share Joe and his generous vision with Watershed readers.
One of the elements I admire most in Joe's work is his fearlessness in including difficult emotions and details. His poems about his brother who had died of AIDS, for example, skillfully avoid sentimentality while embracing a range and complexity of inner feeling, grief, and insight—all revealed intimately to his readers. Joe's work also speaks of Indiana—in both traditional and non-traditional ways. I like that his poems are "located," rooted somewhere, normally in that liminal space between geography and imagination, even between head and heart.
There's a generosity of vision in Joe's poems, as if they are reaching out from a solitary voice to lay claim to a community of voices that might also share some of the speaker's emotions, triumphs, and dilemmas. In short, Joe's poems remind me of the generosity of spirit of a poet, say, like William Stafford, whose favorite word in every interview I have ever read with him was "welcome."
So, I welcome those of you new to Joe's poetry (as I had been), as well as those of you who have been in on the wonder of Joe's verse for some time. I hope you enjoy his poems and the interview, the latter of which lends important insight into his poetics, craft, and motivations in writing.
I am very grateful for the work of Joseph Heithaus.
—George Kalamaras
Biographical Note
Joseph Heithaus lives in Greencastle, Indiana. He has taught at DePauw University for the last eighteen years. There, he has held a University Professorship and the Richard W. Peck Chair of Creative Writing, and he was chair of the English Department from 2006 to 2009. He was born in South Bend, Indiana, but grew up in Ohio, Virginia, and New York where he attended college at SUNY-Albany. He returned to the Hoosier State to get his Ph.D. and M.F.A. at Indiana University and hasn't left. His poetry has appeared in many journals including Atlanta Review, Poetry, Prairie Schooner, Southern Review, and Southwest Review. In 2007, he won the "Discovery"/The Nation poetry prize for a group of sonnets that are at the core of his first book, Poison Sonnets (David Robert Books, 2012). In 2008, his poem "Indiana Flight" was chosen by the Writers' Center of Indiana to be etched into a stained glass mural of British Artist Martin Donlin at the Indianapolis International Airport. That experience led to collaboration on two books by the poets whose work was selected for the airport. The Airpoets have published two books: Rivers, Rails, and Runways (San Francisco Bay Press, 2008) and Airmail (San Francisco Bay Press, 2011). Just outside of Greencastle you can find one of Joe's poems, "What Grows Here," commissioned by Brick Street Poetry for the 2010 Spirit & Place Festival, painted on the side of a barn.
Poems
How B Sees
Not always cutting,
more like waking with house sparrows
flitting on the redbud in a spoil
of light on broad leaves, more
the way houses around his house
appear in late October
when leaves have cut themselves away.
Sometimes looking through branches
or windows, a knife flash
in his belly with a word
he vaguely knows
evade or onslaught
and he has to think a little.
Sometimes he hears a tune,
sees a world in black and white—
mother's dark skirt spread around her
like shadow, each leaf
of grass some strange gray wave
on an ash-black sea,
and the song spends itself
inside him.
Such music trills
and trails into his own bones
and entrails, into his veins
and blood and cells.
Sometimes
the music rolls upward
toward his tongue.
B's Moon
He bites his own arm
to indict Brother,
lifts up the crescent
of bone-white marks
left by his teeth
and says Brother bit him.
In a book he reads of the horrors
of smallpox, portrait
of an infant covered with a thousand pox
like hard white beans
below the skin, a little monster
if not for the vague
resemblance to himself.
Death was horrible,
not for the disfiguring scars
(each mirror curtained),
but pustules covering the throat,
the mouth, making eating,
drinking, intolerable,
or they'd bleed
and you'd become hollow,
empty as a thin crescent hung
in the barest night.
Brother protests,
biting his own arm
and counting the moon
of teeth, but by then
the traces on B
are gone, Mother's anger
spent.
Tapestry of Ash
Mother's afraid of twilight
when corners of the room vanish,
skin goes gray, windows blur.
She fingers her beads and begins
those whispers to Mary,
wanting her life
to not leak away as it does
just now at dusk as she watches
the cat paw a mouse on the walk,
the shadow of the house spread
across the lawn. Here she remembers
a gallery about to close, an intricate
tapestry she lingered by, seeing
inside it women like her—one weaves
a necklace of flowers, one plucks
a harp's strings, one holds (what busy hands,
she stutters now, kneading together
her own) to her lips
sweet dough, one turns a mirror
on her face away.
Naming the Beasts
So many name themselves—
birds, especially. It's what you hear,
then say to yourself: cuckoo,
chickadee, wren.
But since you can't fly
you only mimic, half rhyme
the songs you wake to.
You try to put what's in your ear
inside your mouth.
Ode to the Shoe
So who cares if you've lost your brother?
You are still an open mouth
with tongue and toe, lace
and heel and there is no use
lamenting his loss. You will get by
with one foot pushing you forward
with a crutch. You will still
be scuffed and polished, scuffed
and polished again. You will live
a long life looking back,
on occasion, for your twin
and feeling that absence
like the emptiness you feel
when you sit by the door
at night, lined up neatly
beside no one, only the crutch
leaning as it does against
the doorframe, only the dark
moving inside you.
Ode to the Letter A
Little gable,
slightest house,
from your window
let me see stars.
Give me a mouth,
a hand to write with,
so I can sing or cipher
and tell you what
you are: peak, cone, point,
arrowhead spinning
toward prey. I will hunt
and shape under your shelter
and pray to Orpheus
who made trees move
with the tongue's
alphabet, who looked
back and lost his love
before being torn
into the traces
of a man. Placed
on your side,
you are only
the open mouth
of his head.
With you I must
piece him back.
Buttons
He whispers to the buttons on his coat,
whispers to the sun in a pile
of snow, whispers to the cold, whispers
to the sting of cold against his cheek,
whispers to his breath formed
of his whispers making shapes
before him in the air, whispers to the air,
gives thanks for the crystals of ice on windows,
gives thanks for the sound of his feet against the snow,
his dog on her leash squatting and peeing,
turning the snow lemon, whispers to himself
against his hatred and pains,
his foolish complaints, whispers against
his curses, whispers against his petty wants, whispers
to the morning, the fingers of his gloves, the handle
of the door to his house, whispers to shadows
made by chairs around a table, the boots
he takes off by the door, whispers to the warm
of his coffee, thanks again the sun
for rising, for turning the porch
of his house into the colors of the sea,
whispers to the sea so far away where the sun
has lifted above it like a whisper,
whispers to the scent of apples and the scent
of air he remembers by the sea, he whispers
to the floor and the sink, whispers to stove,
and the knives in the drawers, he whispers
to the morning itself and listens
for the morning's reply, the sound of his dog
lapping water from a bowl, the tick
of the furnace below him, the loud silence
of winter. He thanks the glasses
on his face, the fingers of his hands,
his own lips forming words as he tries
to remember them and write them down.
Seasonal Rituals and Organic Turns of the Poem: An Interview with Joseph Heithaus
By George Kalamaras
George Kalamaras: Your work is loaded with references to family, Joe—whether it's your mother, brother, children, or others. It's very touching. But it's also important for readers and fellow poets to see how important the everyday things of life are in shaping poetic consciousness. Could you talk a little about the role of family in shaping your verse, as well as what the common things of everyday life offer your poems?
Joe Heithaus: I was the youngest of six children in a close-knit talkative family, so I apparently kept quiet and watched and listened. I learned to take the few chances I had to speak at the dinner table, to make quick observations. My father used to say he thought I'd end up being a detective for the FBI, because I was always noticing little details. So I've been watching and listening in a family setting for a long time. I lost one of my brothers to AIDS when I was in my late twenties, and that had a pretty big impact on me. Watching my brother die made me even more acutely aware of life's finite nature and even more invested in the tiny details of life, the way daylight constantly changes, the intense particularity of every tree, every leaf on every tree, every vein on every leaf. And then I started a family of my own. My wife and I have four children. So my poetry now grows, in part, out of my wonder at the miracles of birth and growth. I loved watching my children acquire language, and still love just watching how they grow and mature in their own idiosyncratic ways. My oldest is twenty-four and my youngest is twelve. When an infant yawns, people usually sort of marvel at that tiny gesture. I guess I'm still marveling in certain ways at all the gestures that have followed.
GK: I'm so sorry about the loss of your brother, though I had been aware of it in light of hearing some of your poems at a reading last month. Those kinds of losses are tough, though loss, in general, can be such a difficult challenge. We reach for any kind of stability in an ever-shifting world. It seems to me that deep attention to detail—the kind of deep-seeing you're talking about—can elongate time. It can certainly place one into deeper relationship with one's surroundings. You describe "wonder at the miracles of birth and growth," and poems can chronicle those—but it's the act itself of looking, of seeing, that is the "real" poem in many ways. How do you go about cultivating "seeing" in such detail (you obviously had a propensity for it at an early age, as you note above)? And how does the practice of writing poetry contribute to the depth of your "seeing"?
JH: Reading poetry is probably the easiest answer to how to cultivate "seeing." I think Roger Mitchell mentioned Elizabeth Bishop in your interview with him. Her poems were among the first I read in college that opened up a way to see things. Suddenly, the way I saw a fish, a ceiling, and a map were altered forever. Through her observation, her powers of description and metaphor, she changes the reader's ways of knowing. Heck, look at some of Roger Mitchell's poems you published here on The Wabash Watershed and the way the world opens up in their wake. He ends his poem, "Marsh," with "Broad, level, still, this place gives water / a break from all that rushing out to sea." Thanks to Roger, I now understand a marsh in a different way, as a kind of resting place for water itself.
At some point as I was teaching poetry writing at DePauw, I developed a writing exercise where I tell my students they have microscopic vision, telescopic vision, and x-ray vision. In some ways my poems about the character "B" explore this notion. "B," I've realized over the course of writing poems about him, is a poet both burdened and blessed with an ability to cut into things and see inside them. Of course, by virtue of the imagination, we all have these abilities to see far away and inside things; the writing of a poem just helps us do that.
The poem is an incredibly powerful way to see the world. By finding new names and expressions for what we experience, by paying attention to the smallest details, by exercising our powers to imagine, the poet is always on the brink of changing in some small way how he and his reader understand the world.
I think of that sestina, "The Book of Yolek," by Anthony Hecht, where he so forcefully brings the reader into a narrative of a child lost to the Holocaust that he can end the poem with "prepare to receive him in your home some day / though he was killed in the camp they sent him to, / he will walk in as you're sitting down to a meal." I guess I'm saying that the visions poetry can create have this amazing ability to haunt us, to change us, to connect us to the world around us in profound ways.
I'm sorry, but you sort of have me going with your questions. This semester, I taught a poem by Wislawa Szymborska called "The Joy of Writing," where she invents a world with a doe bounding "through a written wood." In it, she literally shows the writer slowing time, even stopping the hunter's bullets "in mid-flight." After my brother died, I could write about nothing else. I wrote many poems about the end of his life. I suppose recounting those details—in essence, slowing down time—gave me a way to keep him alive in a way. I couldn't have understood that then, but I think I understand poetry's powers more fully now that I'm older.
GK: I love what you say about perception, Joe, and the manner in which the poem can change those who encounter it. You've also just thrown a pretty wide net of different poets in answering that question. This makes me wonder if there are certain poets with whom you feel most aligned and why. Or, are there even certain poetic movements that have had the most impact upon you?
JH: There are many ways to answer that question. I wrote my dissertation on three poets whose work took profound shifts in the 1960s: Amiri Baraka, Adrienne Rich, and James Wright. I learned a lot from each of them and the poets with whom they interacted, but I will admit I probably most related to Wright as a poet. The first book of poetry I bought as an undergraduate was The Light Around the Body by Robert Bly. Bly and Wright for a while called themselves Deep Image poets, in part because of the translations they were doing of poets like Vallejo and Neruda.
So I've already mentioned six poets and am not very close to an answer. But let me focus a little. I think the notion of the "deep image" appeals to me, and I think it goes far beyond a particular school of poetry. The poetry that has the most impact on me hinges on images (and by that I mean any kind of sensory detail) that push at the border of language itself. The great poems change language—and not just English—but also human communication itself.
I always feel as if I haven't read enough, so I force myself to learn by teaching classes about literature I haven't read or have read a little and want more of. Teaching classes in world poetry has opened my mind to a wide range of poetry. I'm not fluent in any language other than English, but I love to hear the Polish of Szymborska, the German of Rainer Maria Rilke and Paul Celan, the Spanish of Pablo Neruda and Gabriela Mistral, and the list goes on and on. I study the translations and am always struck by how, even in translation, images have this immense power to send tingles down my spine. Poetry, to me, is an ever-widening plain to explore.
GK: That's a great constellation of poets, most of whom I also love. And I can see the influence of the "image" in your work as central—perhaps that's one reason I'm drawn to your poems. You also make a really good point about translation. Though I have some reading capability in Spanish, I spend most of my time comparing various English translations when I read Spanish and Latin American poets. We have a lot to learn for our own poems just by virtue of comparing those choices (in English) of diction, syntax, and so on. It's the comparison that's vital—as we weigh the efficacy of this word or that.
I'd like to shift the conversation for a moment to Indiana. You're obviously an Indiana poet—despite having lived elsewhere—having been born in South Bend and spending so much time in Bloomington and, now, in Greencastle. Can you talk a little about how living in Indiana shapes or has shaped your writing? Sometimes for poets it's direct influence, with references to geography, people, history, and so on. For others, the presence of place (in this case, Indiana) is more indirect. How and in what ways has Indiana shaped your poetry?
JH: Well, I have lived in Greencastle and Bloomington together for over twenty-five years, and I think the hills and valleys of south central Indiana certainly live in my poems not only in content, but in certain ideas as well. I often walk in DePauw's Nature Park, which includes an abandoned quarry that nature is reclaiming, and I lived near the old quarries in Bloomington when you could still sneak in for a swim on a hot summer evening. It occurs to me that my poetry often cuts in or digs down to the layers of things. I'm fascinated by the walls of the quarries where whole epochs of geologic history are evident. And I can see and feel the recent geologic history of where I live. Greencastle sits right below the glacial till plain, and from my house I can drive through beautiful hills and valleys up to the flatlands of the till plain stretching north toward where I was born in South Bend. I love to imagine the glaciers and the melt and understand myself in geologic time.
And what is a Hoosier, if not a person who lives with the weather? We don't always appreciate it, but I like living in a place that can be eighteen below in January and a hundred in July. I think these extremes of weather, the distinct seasons, and the beautiful transitions between them give us a glorious set of markers for our lives. I know my poems are drawn to the seasonal rituals of my Indiana life—the first time I mow my grass, that first morning I scrape ice from my windshield, the first day we go to the pool, that weekend we rake up most of the leaves in the backyard. I think these turns in the seasons have helped me learn to make organic turns in my poems. The old Indiana maxim—if you don't like the weather here, wait a few minutes—I apply to my poetry as well. If I don't like what's happening in my poem, I let it turn to something else.
And though I don't have a whole lot of basketball poems, our state sport is a part of me. I even use terms like "telegraphing the pass" or "give and go" when I teach writing. The rituals and techniques of the great Hoosier sport are a part of me and probably affect the way I write as well.
GK: The idea that a poem is an organic entity is something close to my heart, and I'm moved by your description, especially, of turns of the seasons reflecting the organic movements of a poem. Speaking of those shifts—and I know you meant within a poem—I'm interested in any turns your writing is taking in general. In other words, what are you working on now? If I remember correctly, you're working on a couple new manuscripts, right? How and in what ways are these newer books like and unlike your previous books?
JH: That first book of my own, Poison Sonnets, began as a way to challenge myself to write in form. It turns out that those sonnets, with their compressed language, were the poems that journals were picking up, so I abandoned a manuscript where there were sonnets and free verse poems together. Thus, I have a pretty big backlog of free verse poems and poems in other forms I would like to publish. I'm hoping to publish the "B" poems and another manuscript that works out from the invention of language ("Naming the Beasts" and "Ode to the Letter A" are in the early part of that collection) toward an exploration of words and names. That manuscript, at least at this point, will end with a poem about naming our daughter Ruth. In the last three or four years, I've been writing a series of poems about light that I call "light studies." Those poems often begin, at least in their first inceptions, with my attempt to describe the light of dawn or dusk and then, when something is working, the poem sort of finds a life of its own. "Buttons" is the newest poem of those you're publishing here in The Wabash Watershed. That began with walking in the snow. We had a lot of opportunities to do that in Indiana this past winter, didn't we? An early image in that poem is "the sun in a pile of snow." So I think the first impulse was to try to describe the light.
I want to think I'm growing as a poet as I read more poems and discover different ways to make a poem live. I also started writing little stories titled after letters of the alphabet. Those stories try to use the shape of the letters to suggest form and content in narratives that follow. I've found that when I write stories, I use a very different part of myself. Poems seem to emanate from my mouth and chest. While they might begin with observation, they develop through sound and music. Stories have allowed me to go up into the storehouse of my brain to take very real memories and adapt them to fiction. By trying to write stories, I'm perhaps expanding what I might be able to do in poems, though, as you well know, the whole process of making things with words can be mighty mysterious.