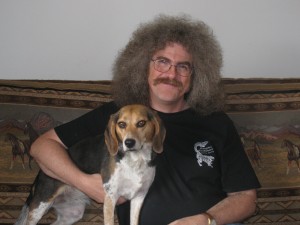 George Kalamaras, former Poet Laureate of Indiana (2014-2016), is Professor of English at Indiana University-Purdue University Fort Wayne, a post he has held since 1990. Among his degrees, he holds a Doctorate in English from State University of New York at Albany and a Master's in English from Colorado State University. He was born in Chicago and grew up in Cedar Lake, Indiana, in Lake County.
He has published fourteen volumes of poetry, including seven full-length books—The Hermit's Way of Being Human (forthcoming), Kingdom of Throat-Stuck Luck, winner of the Elixir Press Poetry Contest, The Recumbent Galaxy, co-authored with Alvaro Cardona-Hine and winner of the C&R Press Open Competition, Gold Carp Jack Fruit Mirrors, Even the Java Sparrows Call Your Hair, Borders My Bent Toward, and The Theory and Function of Mangoes, winner of the Four Way Books Intro Series—and seven chapbooks, among them the award-winning The Mining Camps of the Mouth (New Michigan Press). He has also published one book of scholarship; numerous articles in scholarly journals; and hundreds of poems in anthologies and magazines in the United States and abroad.
Of the anthologies and magazines, his poems have appeared in such places as The Best American Poetry, American Letters & Commentary, And Know This Place: Poetry of Indiana, The Bitter Oleander, Caliban, Denver Quarterly, Epoch, Hambone, Hopewell Review: New Work by Indiana's Best Writers, The Iowa Review, Kenyon Review, The Massachusetts Review, New American Writing, New Letters, North American Review, Southern Humanities Review, Sulfur, Talisman, TriQuarterly, and many others.
In addition to poetry publications in the United States, his poems have appeared in print journals in Canada, Greece, India, Japan, Mexico, Thailand, the United Kingdom, and elsewhere, and his poems have been translated into Bengali and Spanish.
In 1994, Kalamaras received an Indo-U.S. Advanced Research Fellowship (from the Fulbright Foundation and the Indo-U.S. Subcommission on Education and Culture) to conduct research in India, with joint affiliations at Banaras Hindu University and Deccan College. In 1993, he received a Creative Writing Poetry Fellowship Grant from the National Endowment for the Arts, and has twice received an Individual Artist Fellowship Grant from the Indiana Arts Commission. In 2009, he won the Outstanding Researcher Award at Indiana University-Purdue University Fort Wayne.
He has presented numerous poetry readings throughout the United States as well as in India, and has served as a guest lecturer at universities in both countries.
Books by George Kalamaras
Poetry
click for a larger-sized image

Criticism
click for a larger-sized image
Audio
click for a larger-sized image